At the heart of Fernweh is a desire to connect with individuals who are passionate about what they do -- whether that means writing, designing, cooking, shooting, painting, singing, crafting, or so on -- to highlight and celebrate the things that collectively make up our passions, dreams, and joys. We not only want to connect, but we hope to inspire, encourage, and cultivate an atmosphere of intentional living, filled to the brim with gratitude and joy over the simple, sometimes ordinary, lovely things of life.
I like to think that one of the things that brought us together is a mutual love of the wonderful Novembery fruit that we call pomegranates. So, from three of us to you, a few words, photos, and sentiments about this one fruit we so very much adore. Hopefully, it will inspire you to sit down and breath in deep, possibly with a friend, and maybe, over a pomegranate or two.
Enjoy.
katie...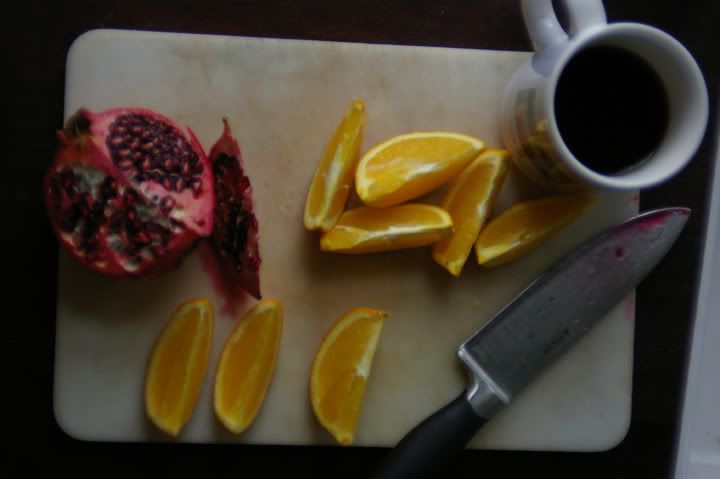 Directions for the very best November breakfast: One half of a ripe pomegranate.. Add an orange and a cup of coffee as desired. Best if eaten while reading F. Scott Fitzgerald or J.D. Salinger.
abbey...
a photo + a
recipe for spiced pomegranate apple cider
hannah...
This is just a very small photo essay on a pomegranate. When I was younger and it was just my sister, parents, and I, my dad would come home with pomegranates for us to eat. It was a winter treat, a favorite memory, and we would sit at the table with him, shelling them to eat the seeds until our fingers were red and we had pink stains on our faces. Most of my friends didn't understand the fascination, or had never tried one, but come frosty days and mittens on fingers, we would go to the store to pick out red fruit to be taken home. Pomegranates are such a beautiful fruit, and an interesting one, and I wanted to show the loveliness in all of its stages.